For more information on this great product, contact Gary Siegel at Gary.Siegel@cusolutionsgroup.com or at 800-262-6285 x586.

In today's ever-changing rate environment, competition is fierce. Give your credit unions a competitive advantage on the banks in their community, county, or neighborhood by giving your members access to RateMap. It is a new, unique web-based pricing tool offered in collaboration between League InfoSight and RateWatch that you can deliver as a benefit of membership—branded under your league.
RateMap provides your member credit unions the online tools to see what key rates other financial institutions are currently offering. The insights gained from it will help decision makers to determine what products to offer and how to price them so they can continuously meet and exceed their revenue and profit goals.
Product
Features

Rates for a selection of the most commonly offered deposit and loan products

12, 36, & 60 month Certificates of Deposit, Money Markets at $2.5K & $25K
60 & 72 month New Auto, and 48 month Used Auto
Deposit rates are updated weekly; loan rates are updated monthly

Rate coverage of all of the institutions/branches covered by RateWatch

Deposit rate data on more than 90,000 branches nationwide
Loan rate data on more than 40,000 branches nationwide

Filter by institution type, product type, and rate
Search by address, zip code, or city and state
View every surveyed branches' address, phone number, website, number of locations, and bank deposit balances
Added values include:

Internet bank rates
Customer/member reviews from sites like Google, Yahoo, and Yelp aggregated for convenient viewing
Semi-annual state retail fees report showing fee averages for credit unions vs. banks
County interest rate averages widget for placement on league website

Shows the current average, high, and low rates for select deposit and loan products at the county level in each state by institution type

Benefits
to the League

Increase the value of league membership, including exposure to other league services
Great for use in recruitment and retention efforts
Provides credit unions continuous and valuable insight into the current rate environment in their local market to assist them with their own pricing decisions
Provide small credit unions with competitive data that they could may not be able to afford to purchase themselves
Completely unique product offering designed with the help of credit unions and state leagues
Assisting those credit unions that have a greater need for support to help them grow
Discounted offers to other RateWatch services advertisements within the map

Benefits
to the Credit Union


Free and easy access to competitive pricing information
More branch level rate data available than any other source in the industry
Convenient access to member/customer reviews from multiple review sites
Insights into not only user's institution reviews but also reviews of their competitors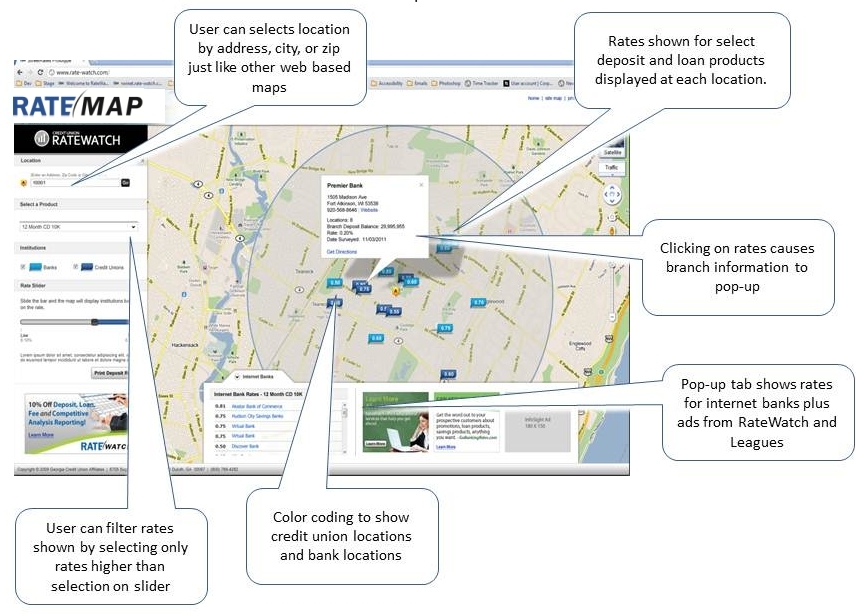 Click on image for larger view